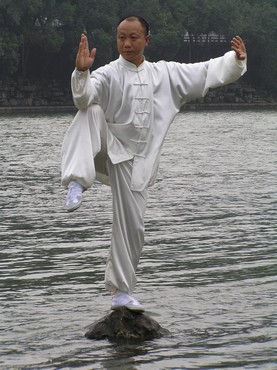 The Wang Zhi Ping Tai Chi Training Centre - Yangshuo
Wang Zhi Ping has been teaching Tai Chi in Yangshuo for the past 20 years and has an attractive established school on private grounds close to Yangshuo Park.
He is a dedicated Tai Chi practitioner and may be a good person to learn with especially as a beginner. The school has a health focus, not a martial one.
There are videos of him available on the school's channel: click here.
The school offers training in:
Simplified Yang Style Tai Chi 24
Feng Zhi Qiang's Chen Xinyi Hunyuan Tai Chi
Chen Zhao Pei's Chen Lao Jia Tai Chi
Ba Duan Jin Qi Gong, Yi Jin Jing & Xi Sui Jing for Health & Rejuvenation.
The 5 Animal Exercises for Health- (a soft interpretation closer to Tai Chi movement than Kungfu - Click here for details)
Nb. There is no 'syllabus' here. Students learn individually according to their needs and physical condition and may be offered training in other arts as well if appropriate.
Wang Zhi Ping teaches students personally himself. Generally classes are small, less than 10 students together, often less than 5, which is ideal.
Students generally train for four hours a day on week days leaving weekends free to relax and enjoy the area.
The learning environment is very pleasant and is conveniently located in central Yangshuo close to the park. The Taichi garden is private and spacious and includes a large covered area with open sides allowing Tai Chi practice whatever the weather.
It's possible to take lessons for short periods but generally students are encouraged to train for at least a month or two to allow time to really learn the Tai Chi or Qi Gong. Perhaps the Qi Gong can be learnt well within a shorter time.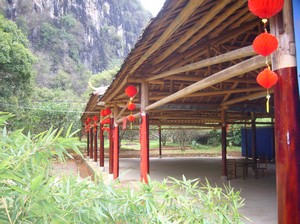 Students I've met over the past couple of years have been happy with their time at the school and have talked of returning at a later date.
One older student recently told me his body was a little tired from training intensively for the month, but he had learnt more in the short time, then the past ten years training two evenings a week.
Wang Zhi Ping speaks a simple English which he has picked up from his students over the years. He has developed an effective teaching style mainly using body language and small amounts of affirmative or non-affirmative feedback. Students get it pretty quick.
It actually helps the learning process, as you drop into a more meditative state acutely focused on where he is leading you.
He plays beautiful slow Chinese music throughout his classes, which does help draw out feeling from your soul as you practice hour after hour together.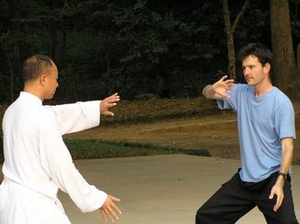 Learning any Tai Chi style requires a lot of sustained concentration which is hard work and so these little aesthetic details really help.
I know Wang Zhi Ping very well, he was my first teacher. I spent a morning with his class again this year (2016). I just sat quietly and watched and then we chatted afterwards over tea. It left me with a quiet, peaceful feeling. I could see he was happy with his simple life, teaching his Tai Chi every day. It is important to him and gives his life its meaning and beauty.
My own opinion is that this can be a good environment for beginners or relative beginners fairly new to Tai chi.
It is also worth considering for people with weak health wishing to use the 5 Animal exercise and Yi Jin Jing Qi Gong to strengthen themselves, possibly with some gentle taichi as well.
Click here for more details on the 5 Animal Exercises.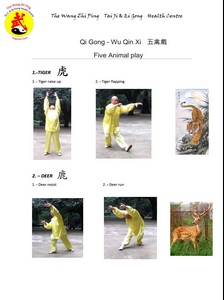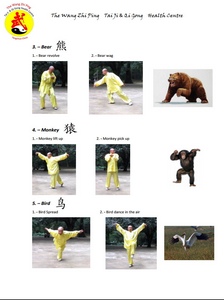 I watched some students training in Xi Sui Jing and this may also be interesting for some people. Apparently it is not easy to find teachers willing or able to teach this.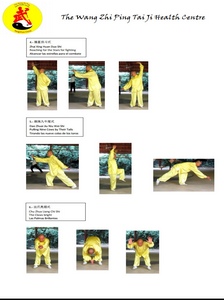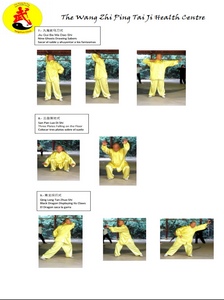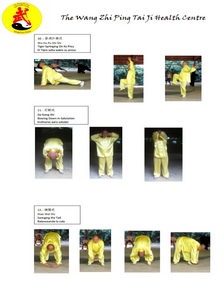 For more information see : Shaolin Qi Gong Systems.
Nb. Wang Zhi Ping teaches it in a modfied soft way, closer to Tai Chi than the original Shaolin forms.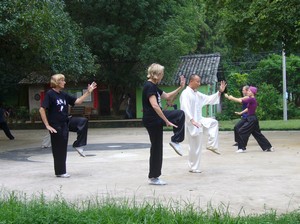 Email enquiries are handled by an associate of his, He Pin who struggles with some of the complicated messages people send. Please use simple, direct language and don't be put off because replies aren't in professional English - you are going to China to learn Tai Chi not English!
It is better to just decide whether you go or not from reading this website, rather than seek further reassurance or details from them. Other websites associated with the school are not being maintained and are out of date now.
Wang Zhi Ping teaches with enthusiasm and students who put the work in to learn with him, leave with a Tai Chi practice they can continue with for the rest of their lives.
So an interesting school to consider in a beautiful environment where its easy to set up home for a while.
They charge 4000Y per month for studying at the school and are able to help with affordable accommodation in Yangshuo.
For more information, please contact the school directly :
Contact The Wang Zhi Ping Tai Chi Training School
Student Testimonials
I was looking for an activity that could bring me well-being and satisfaction. After practising Tai Chi in a local group in Latvia for a year, I've decided to take my Tai Chi to a new level and after a long search and many e-mails between different schools in China I made my decision to travel to Yangshuo to The Wang Zhi Ping Tai Chi Centre. And I wasn't disappointed. The welcome I got in the school exceeded my expectations. Amazing landscape around Yangshuo complemented the experience. That culture was corresponding to my needs. The energy, the calm and the inner peacefulness that I felt in that class had convinced me to follow Master Wang Zhi Ping, so I've visited Yangshuo 3 times for the past three years, in total spending 5 months here. Tai Chi training has helped me a lot. Now, I have more flexibility, less pain and I am more well-balanced energetically, physically and mentally.
Nina, Latvia
---
I never attended any Tai Chi classes before. I was lucky enough to have an opportunity to travel to China for three weeks and I made a decision to take lessons in The Wang Zhi Ping Tai Chi Centre for two weeks in Yangshuo. Now I feel sorry that I couldn't stay longer a study more, but even though I had a life changing experience. Master Wang Zhi Ping is a great and very attentive teacher. His technique is amazing to watch and makes me want to perfect my newly learnt Yang 24 form, which I am practising everyday at home with a great pleasure. I came back home very satisfied and became much calmer and relaxed. I would like to study more and hoping to go back to Yangshuo next year for longer. I would highly recommend The Wang Zhi Ping Health Centre. Thank you so much to the Master and the staff that was very helpful and kind and made my time in China so special!!!
Polina, Ireland
---
To Master Wang Zhi Ping and all - I have had the most fantastic experience staying here in Yangshuo and training at the School. Many thanks for helping me improve my Tai Chi practice with excellent demonstrations, hard work, much patience and good humour. Xie xie! I wish you and the school every good wish for the future.
Graham, England
---
With patience one can achieve anything. I have studied Tai Chi here for two months and I learnt quicker than I could ever imagine. When I started I thought I would learn maybe two forms in the time but have at least doubled that. Credit where credits due, Wang Zhi Ping is a very good teacher and has helped me along my path. When I first arrived in Yangshuo I had only planned on staying only for a few days and then return to Wudang Shan to continue learning Kung Fu, I found a good Tai Chi School, a very good teacher and so I have stayed longer and probably will return in the Autumn. On talking to people in Yangshuo you hear of many similar stories, it is very easy here. Wang Zhi Ping teaches in a very patient manner and with each person at their own speed depending on their skill and what they want to learn. He teaches both Yang and Chen Styles understanding not only the movements but why these movements exist in martial context. I have enjoyed my time, I hope you enjoy yours.
Rob, England
If you go on to study with this school yourself please return here to Submit a Testimonial for others to read.Thank you...
China Tai Chi Guide Testimonial Policy & Disclaimer
Student testimonials may be provided by the schools themselves or submitted directly to the China Tai Chi Guide. In either case it is difficult for the China Tai Chi Guide to verify their accuracy.
My choice is to include positive, balanced, testimonials only. Obviously every school will have some negative ones also, but what is taken from the experience is influenced by how one works oneself with what is offered. If a school has too many bad ones, I will simply remove it from the directory.
The testimonials provide some kind of feel for the school and people's individual experiences and if there are sufficient positive ones, then this seems a reasonable measure for the general quality that the teacher is offering.
For more information, please contact the school directly :