The Yangshuo Traditional Tai Chi School - Wu Heng Dong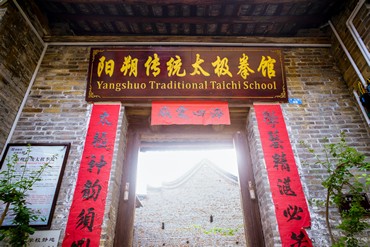 The Yangshuo Traditional Tai Chi School is a Chen Style Tai Chi training centre in the lineage of Chen Zhen Lei.
The founders are Wu Heng Dong (Kim) and Wu Yu Ping (Ping), both of whom have practised Chinese martial arts since they were young.
They offer a complete Chen Style training environment suitable for international students to progress from complete beginner to competition level.
The China Tai Chi Guide is very happy to support their work.
I helped create a Tai Chi training environment myself in China many years ago and for a while it was beautiful, with a warm, enthusiastic community of practitioners training together from all over the world.
Wu Heng Dong and Wu Yu Ping have succeeded in creating the first school I have seen to match this and go further. I am really impressed with the quality of everything they are doing and the enthusiasm they are bringing to their work.
Wu Heng Dong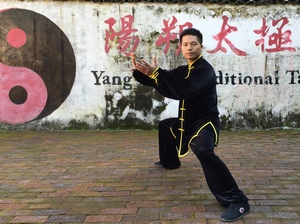 Wu Heng Dong (Master Kim Wu) is a Kung Fu and Tai Chi Master at Level 6 in the Chinese Wushu system and is the headmaster of the Yangshuo Traditional Tai Chi School. He has been engaged in the martial arts since childhood and learnt the basic skills from his father.
A native of Fang Cheng Gang, in Guangxi province, he graduated from The Guangxi National College of Health and Physical Education in 2000 and then went on to study Chen Style Taijiquan and Taiji theory under the tutelage of Wang Haijun, a disciple of Chen Zhen Lei.
Over the years he has participated in domestic and international Tai Chi competitions and has won many gold medals. He holds a Wushu and Boxing Coach Certificate for China, Grade 1 and has been teaching both Chinese and international students for nearly 17 years. He has featured in many television documentaries on Tai Chi, shown around the world.
He teaches Chen Style Tai Chi Quan, Pushing Hands and weapons (staff, sword, broad sword and fan). He also teaches Tai Chi Boxing, Yang Style 24, 42 Sword, 42 Form and Southern style Shaolin Kung Fu.
Kim says that he hopes in running the school to help as many people as possible to understand and learn the profound essence of Tai Chi culture.
I had the privilege of watching Kim teach his students most days while I was in Yangshuo between 2008 and 2011. His manner is very patient and he has a delightful enthusiasm for Tai Chi.
A video of Wu Heng Dong:
The School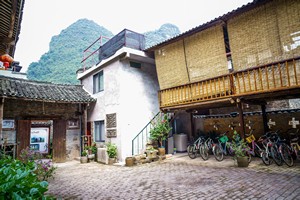 The school they have set up together is in a really quiet, beautiful area, just outside of Yangshuo and the first impression after taking in the aesthetic attractiveness of the old buildings is just how peaceful the place feels.
It's an irony but the reality of learning Tai Chi in China is that most of the time one is used to hearing a cacophony of sound, whereas in the school all I could hear was bird song - great!
The school has a kind of Zen temple feeling to it: smallish courtyards full of antique Chinese items, big green plants, large tubs of water possibly with fish inside.
Accommodation is simple, affordable and adequate for most people, although it is also possible to stay in hotels in Yangshuo and cycle in for classes.
Tasty meals are provided and students eat together in the school. I joined them for a couple of afternoons this year and there was a really nice atmosphere in the group with about 18 Western students in total - a warm community to train with.
The school has three outdoor training areas. The main one is large and has a roof to provide cover during rain, the second is slightly smaller also with a roof and the third outside and uncovered with a good earthen floor. There is also an indoor training space with mirrors.
Full time for a month, 20 hours a week works out at 6880Y inclusive of single accommodation and full board.
Part time study, 2 hours a day is 4880Y per month inclusive of single accommodation and food.
Summary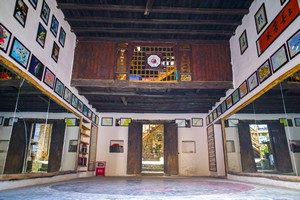 It was clear on my visit again this year that most of the students present were returning for the second or more time and this was great to see. This is its own endorsement of the quality of the school.
To summarise, The Traditional Tai Chi School is an excellent place to study Chen Style Tai Chi as an international student in China. I can highly recommend it.
Location - Please see About Yangshuo.
Contact & Booking
Website - If you want more information on the school, their website is here: Traditional Tai Chi School
Or you can contact The Traditional Yangshuo Tai Chi School directly for more information
Student Testimonials
I first went to the school for three weeks in 2016. I was so impressed that I decided to return for 2 months in 2017. What is really impressive about this school is not just the level of Tai Chi expertise of both masters, but perhaps even more the quality of their teaching. Unlike some schools, they do not leave the teaching to assistants, and they invest themselves very strongly in their students' success. Teaching is an art in itself, and both Master Kim and Master Ping are very fine teachers. The other feature I would highlight is the atmosphere of the school. There is a real feeling of collective spirit, of welcoming, of learning together, which you get from the students as well as the teachers. If you want to learn Tai Chi in China, then this is the place to come.
Martin
---
When i came to Yangshuo, i met several people who suggested me not to stay too short time in this beautiful place and to take my time, if i really want to learn Taichi...i didn't want to, because I wanted to travel around China. But in the end, i enjoyed it so much, that i stayed - and once i wanted to travel further, i extended my stay - again and again until my last day. It's not only Taichi, the living in this great traditional building, the delicious food and the great location in the quite and beautiful Villige close to the river. It was more the way, Kim and Ping are teaching and acting. They both are such great persons, help wherever they can, try to do their best to let you get as much knowledge about Taichi, kungfu, Qigong and chinese culture en general. They are amazing and i really love their way of humor :) it made me feel like i was at home. and some day, i will and need to go back to this "home" :) i'm looking forward to see you very soon! :o) THANK YOU SO MUCH!
Lena
---
Well what to say, I think that just by saying that I am back a year after beeing here last year three months, everything has been said. Not only the good teachers, but the nice feelings I could get thanks to everything I was thaught in the yangshuotraditionalschool. This year I came for another two months to improve my Tai Chi and Qi Gong and the lovely feelling I get with it. That made me decide to become hopefully a Tai Chi teacher so I can teach other people to feel so good and healthy. I recomed to anyone who is thinking to try it or it is not sure if do it or not, and if you decide to do it in Yangshuo, do not hesitate to come to meet Kim and Ping (not only good teachers but people you can trust) and their facilities surounded by a beautyful landscapes.
Justa
---
I came to China a year ago and have studied Tai Chi with a number of Masters. Without a second thought Masters Kim and Ping are by far the best. As Tai Chi is both a martial art and a philosophy Kim and Ping strike a perfect balance between theory and Technique.
They have an amazing ability to gage your limits, explaining short comings in a clearly, efficiently and most importantly in English. From all the students I have spoken to from advance to beginner all have stated how much they have gained from studying with these two dedicated Masters.
The school is beautiful and in perfect harmony with its surroundings, more importantly the two Masters are some of the nicest people I have ever met. I can truly recommend this not just for the dedicated Martial artist but as a genuine China experience.
The best thing I have done in China by far!
Christian
---
I had studied tai chi in America for about a year before going to China. I spent a total of two years in China teaching English and trying to absorb as much tai chi as I could. I went through a couple different instructors before luckily finding Master Kim. As soon as I saw him instructing another student, I could easily recognize that he had the true understanding of the beautiful art. I immediately approached him and asked him if I could be his student. I was overjoyed and spent the next eight months training with him daily. You will find the true teaching with Master Kim and in a way that Westerns can embrace and progress at a rapid rate. Learning the foundation of silk reeling and eighteen movements is essential to your core practice and nobody is better to mirror and learn from than Master Kim. I truly had the best experience of my life in Yangshuo. I even fell in love and met my wife during my time there and owe Kim for introducing us! Best of luck with the school Master Kim. Lena, Lia and I will be back very soon!!!!
ThirdTuck
---
There are more reviews for the school : here.
If you go on to study with this school yourself please return here to Submit a Testimonial for others to read.Thank you...
China Tai Chi Guide Testimonial Policy & Disclaimer
Student testimonials may be provided by the schools themselves or submitted directly to the China Tai Chi Guide. In either case it is difficult for the China Tai Chi Guide to verify their accuracy.
My choice is to include positive, balanced, testimonials only. Obviously every school will have some negative ones also, but what is taken from the experience is influenced by how one works oneself with what is offered. If a school has too many bad ones, I will simply remove it from the directory.
The testimonials provide some kind of feel for the school and people's individual experiences and if there are sufficient positive ones, then this seems a reasonable measure for the general quality that the teacher is offering.
Contact The Traditional Yangshuo Tai Chi School for more information