Yang Dong Bao, Yangshuo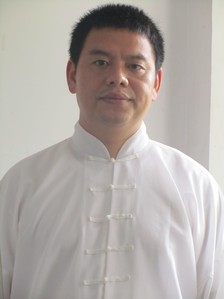 Yang Dong Bao is a high level teacher of both Yang & Chen style Tai Chi living in Yangshuo, China. His special area of interest is Small Circle Tai Chi (Xiao Jia).
He teaches :
Traditional Small Circle Yang 85 Long Form
Traditional Small Circle Yang 24 Form
Chen (Xiao Jia, Small Circle) 64
Chen (Lao Jia) 21 (a Xiao Jia version of Chen Zhen Lei's 18)
Various Chen Sword Forms
His lineage is very strong. He started learning with his grandfather, a Yang practitioner at the age of 5 and soon after started training with his grandfather's teacher, Master Zhou, who was 95 at the time.
Master Zhou attended one of the Wushu acadamies in the early 20th Century in Changsha and had access to China's high level Tai Chi teachers at the time. We believe this was just prior to the time Yang Chen Fu started to dominate the teaching of Yang Style Tai Chi with his Da Jia form. Master Zhou was also a high level Qi Gong master.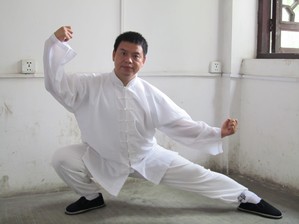 After training with Master Zhou throughout his teenage years, Yang Dong Bao travelled widely learning martial arts with many teachers. He lived in Kaifeng for a period, and became a senior student of Shi Lei, who holds one of the Chen Xiao Jia lineages.
He learnt many other forms but the Xiao Jia forms of Master Zhou and Shi Lei became the foundation of his practice.
Nb. It's very rare to find good teachers of this type of Tai Chi as few people in the past or now have had the opportunity and capacity to learn it well. There have never been many high level teachers.
His Yang style is not influenced by the Handan Xiao Jia line of Yang Shao Hou. It is a soft Xiao Jia, not a fast martial one, although the form itself is clean and applications are fully evident. Most Xiao Jia in the West probably comes from people who've had access to Yang Shou Zhong, Yang Chen Fu's elder son, which is from Yang Shao Hou's style.
Master Yang teaches on a tutorial basis only, not a school basis.
Students usually study for 1-2 hours daily with him for long periods. He prefers serious students who stay with him for a least a month, preferably two or three months or even longer if possible.
The Small Circle way of Tai Chi is beautiful but it takes time to learn well.
Location - Please see About Yangshuo.
Study Costs
1) Short term 1-1 introductory classes for beginner to advanced tai chi practitioners, providing an introduction to Xiao Jia taichi, especially the finer details of peng, nu, ji, an.
His present fee is 300Y / hour for this short course.
This can be used in itself as a health qi gong or as a way to deepen ones main taichi practice
2) Serious 1-1 Tai Chi study, 1-2 hours daily for 1 month or longer : 150Y / hour
3) Pair or Group prices - please contact him for more details.
I think this is likely to appeal to practitioners who have some understanding of what he is offering, so perhaps not beginners.
Contact Details : There are none! He requested people find him naturally in person, in Yangshuo park or at his shop in New West Street. Just talk to him, see his Tai Chi and if you are both happy, arrange to study with him. He doesn't take private bookings at a distance with people he hasn't met.
Nb. Yang Dong Bao doesn't leave Yangshuo now, as far as I am aware, so he is likely to be around. I take the same gamble, just turning up each year and if it doesn't work one time, I'll do something else!