Tai Chi Schools & Teachers in Handan
Xie Yong Guang - Yi Quan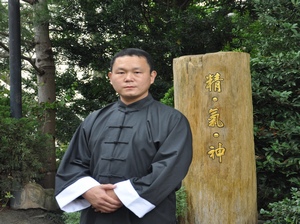 Xie Yong Guang is the Wushu teacher for Handan University training his students in Simplified 24 Style taichi, Competition 42 Style and San Dar martial wrestling, and his level is very high in all of these, but his real passion is for Yi Quan which he plans to offer to Western students. He trained at the Yiquan school in Beijing and is high in the lineage in China. He is also a practitioner of Chao Style Tai Chi which is a evolution of Wu(Hao) Style Tai Chi.
Xie demonstrated his competence while I was with him in 2011. He let me feel a non-moving fahjing i.e. he used deep sinking, to coordinate a wave of Qi to his fist which was then transmitted to my chest thankfully not causing damage. I was left in no doubt of its efficacy though if used to the full. This is martial arts at its highest level of application.
At the same time, Xie seems enthusiastic about teaching all aspects of Yi Quan, both health based and martial and I can see he will make a good teacher for foreign students to learn with.
Wu Quan Hang - Yang Banhou Style Taichi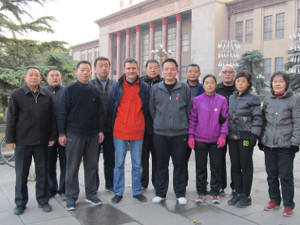 Wu Quan Hang is the current head of the Yang Banhou Association of Handan
He teaches most mornings 6.30am - 8.30am on the square in front of the Jinan Hotel so it is straightforward to find the group if you are staying there.
They practiced 85 Long form with some variations to the Yang Chenfu line and some short forms I was unfamiliar with, but apparently the technique within the practice is not at all the same. I was unable to grasp the differences in the time we had with my Chinese.
Wang Chang Xin was the previous head of the association and was famous in Handan for his pushing hands. They presented me his book in Chinese which provides information on the Chan Si, Silk reeling in the form and other techniques, so this may be an interesting opening for some people.
They are openly friendly towards visiting Tai Chi people anyway.
Master Lu - Lu Family Taichi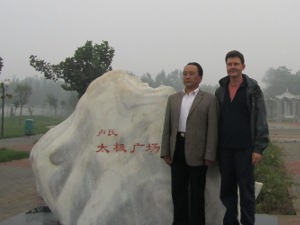 Master Lu is the current head of the Lu family and lives about an hour away from Handan.
His family style of taichi is distinct from the Chen, Yang line probably with an influence from Wudang Internal Kungfu although this is not clear.
Master Lu was enthusiastic to demonstrate his family style and appears accomplished in the art. I especially noted the diversity of martial pushing hand sequences which seemed very rich, even compared to what I witnessed with Zhao You Bin, so this could be an interesting visit for someone.
Other Schools & Teachers
I was invited to attend a gathering of all of Handan County's Tai Chi teachers from all traditions on my third visit to Handan and there are an awful lot of them!
This area is very rich in Tai Chi to say the least. However I don't have contact details or information on them and one would need to have good Chinese or good translator support to explore this territory.