Xie Yong Guang, Handan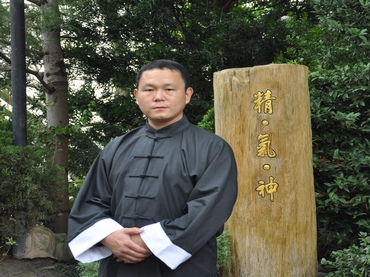 Xie Yong Guang is the Wushu Master of Handan University and a senior lineage holder in the Yiquan tradition.
Teaching Offered
Yi Quan & Qi Gong for Health
Yi Quan as a Martial Art
Modern Yang Style 24 & 42
Wu(Hao/Chao) Style Tai Chi
Sandar Martial Wrestling
Master Xie is proficient at a very high level in all of these practices and is keen to share them with both Chinese and international students.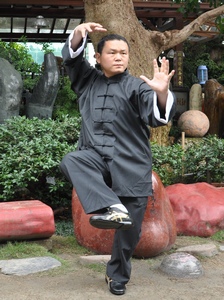 Xie demonstrated his attainment in the martial arts very dramatically for me on our first private meeting.
We started with a demonstration of the diversity of Zhan Zhuang postures used in Yiquan, which was followed by a spontaneous free-form sequence of Yiquan martial movement, not something I had seen before, being more familiar with formulated sequences.
Finally he performed a non-movement FahJing punch to my chest and then a non-movement push which sent me back against the wall.
The "punch" was not comfortable to receive but Xie had good control and didn't hurt me. It was interesting to experience rather than just reading about these things in old books.
Master Xie has achieved a deep state of 'fang sung', and so he is able to sink his energy very strongly into the ground and then coordinate all of the muscles of the body to move in a single direction at high speed, causing a hammer like wave of a punch.
This is totally different from the traditional Kungfu style, drawing back and releasing forwards with the muscles punch that is normally seen in martial arts, even in most Chen style Taichi.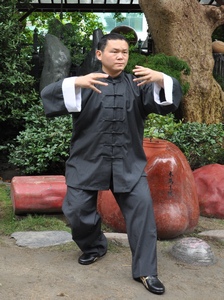 This style of FahJing punch is part of Chen Xiao Jia and very high level Yang Style. The founder of Yiquan learnt Tai Chi along with other martial arts.
Although Yiquan is Xie's core martial art passion he is a high level practitioner of Beijing 24 Form and Competition 42 Style and training students in this work has been his main professional role for many years and he can share these with appropriate students.
Xie is also a practitioner of Chao Style Tai Chi, an evolution on Wu(Hao) Style only really known around Handan. One aspect of the style is a wide open finger hand which is apparently very effective for the efficient development of strong Qi.
He appears happy to teach Chao Style to interested students as well.
I am particularly impressed with him as an exponent of the 'practical' side of the martial arts. Applications are often discussed in Tai Chi teaching, but Xie is obviously used to exploring their use in the ring and can share this experience with students.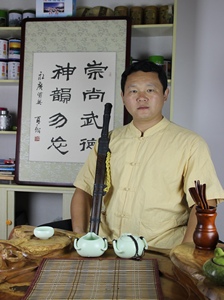 When the China Tai Chi Guide receives enquiries expressing a strong interest in exploring the martial aspects of Tai Chi in an immediate way with a high level practitioner, Xie Yong Guang is the teacher we recommend.
Xie speaks English reasonably well and is very happy to teach Western students whether with an interest in personal health or in serious martial training.
Master Xie travelled to Paris to share his work a few years ago and hopefully there will be further opportunities to study with him outside of China as well as inside.
Xie is planning some training intensives in the future so if you might be interested in these events, please contact him. We are not sure of the location yet or dates but these should be good opportunies to go deeper into this work.
So a very interesting contact for the right people.
Gallery