Chen Jun (June) - Chen Style Tai Chi - Shenzhen, Guangdong Province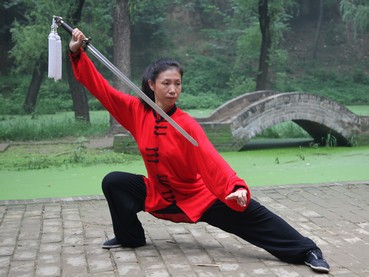 Chen Jun, she calls herself 'June' in English, has studied Chen Style Tai Chi Lao Jia and Xin Jia to a high level over the past few years, learning personally with Grandmaster Chen Zhao Sen.
She is a 12th-generation Descendant of Chen Family Taichi.
A few years ago she entered the Jiaozuo Chen Tai Chi Biannual Competition in the Womens Traditional Chen Tai Chi Class and came out with the Gold medal; quite an achievement. She also recently won the Guan Dao CCTV5 Traditional Chen Tai Chi National Competition in Chenjiagou.
Her Tai Chi although definitely classical Chen Style, performed with low stance and explosive Fah Jing, has a soft quality to it which reflects her personality and this comes across in her teaching.
Chen Jun is fluent in English and in recent years has acted as the translator and at times assistant teacher for Chen Zhao Sen.
It has given her a very good background for teaching Chen Style Tai Chi to international students both at a beginner level and intermediate to higher level.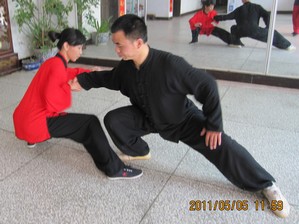 She is also a very pleasant person to spend time with and unusually familiar with Western culture having previously worked as an international sourcing specialist for Huawei (a Telecom company).
She now runs, "June's Chenjiagou Tai Chi Training Center" in Shenzhen and offers private tutorial teaching to both Chinese and international students around Shenzhen and Hong Kong.
You can visit her blog for more details on her public classes and weekend workshops in the area, but please contact her below for details.
This is a good opening for anyone living and working around the Shenzhen and Hong Kong areas.
Please contact her for more details on opportunities to learn and prices etc.
Contact : Chen Jun (June).